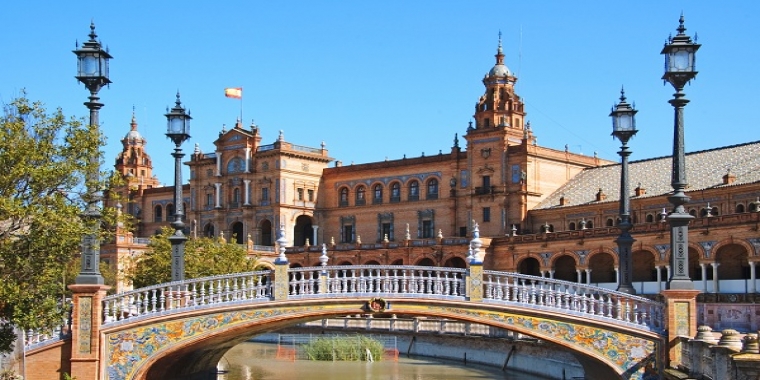 DAY 1
Arrival at Madrid
Arrival at Madrid Airport Meet & Greet with assistance and transfer to the hotel. Overnight
DAY 2
Half Day City Tour
After Breakfast. Morning free. Pick up from your hotel for an afternoon Panoramic City sightseeing tour. Overnight stay at Hotel.
DAY 3
City Tour
Breakfast. Pick up from your hotel and transfer to JULIÀ TRAVEL terminal (Plaza de España, 7). Departure at 08:30 a.m. Drive along the land of Don Quixote "The Man from La Mancha" to Cordoba. City tour including the Mosque and Jewish Quarter. Continue to Seville. Dinner and Overnight Stay at Hotel.
DAY 4
Panoramic city tour
Breakfast. Monumental and Panoramic city tour (Cathedral from outside, Santa Cruz Quarter, Maria Luisa Gardens). Afternoon at leisure for you to discover exclusive views. Dinner and Overnight Stay at Hotel
DAY 5
Ronda City Tour
Breakfast. Departure to Ronda. Time at leisure to admire this town of Celtic origin and the marvellous view of the valley and mountain range. Continue to Costa del Sol. Afternoon at leisure. Dinner and Overnight Stay at Hotel.
DAY 6
Granada Enroute Sight Seeing
Breakfast. Departure to Granada. Visit of La Alhambra and Generalife Gardens, the last stronghold of the Moorish Kingdoms up to 1492, an amazing monumental environment. Dinner and accommodation. Optional Gipsy night tour in Granada.
DAY 7
Imperial City of Toledo Tour
Breakfast. Departure towards the Imperial City of Toledo (World Heritage city), where the three cultures of Spain (Christians, Moorish and Jewish) have lived together. Interesting tour of the most important city monuments, its narrow streets and the famous "Damasquinado" (gold and silver inlaying in iron). Continue to Madrid and transfer to your hotel. Overnight Stay at Hotel
DAY 8
Departure
After Breakfast. Transfer to the airport for Onward Journey to India with Sweet & Memorable memories of your Spain Trip arrange by Shakthi Tours and Travels Best Tour Operator in Chennai.
DAY 1
Arrival at Valencia
Meet your Guide at the hotel breakfast area for an welcome meeting where we'll give you the low down on what's happening over the next 4 days. Afterwards, we'll take you on an orientation walk of Valencia, show you around the Old Town, point out the major sights, the main shopping area, markets and all the restaurants and bars. You can either check out the City of Arts and Science or go shopping for your battle outfit.
DAY 2
Peñiscola day trip
Today is the perfect day to chill. You can hang around the hotel, or join the day trip to the coastal town of Peñiscola with your Guide. This place is a pretty town engulfed in a rich historic past. There are heaps of water-based activities to get involved in, so whatever you do, don't forget your swimwear.
DAY 3
La Tomatina Festival
The day of tomato-based carnage! Today we head to Buñol where the fight will take place. We'll arrive in Buñol early, so you get a chance to immerse yourself in the great atmosphere and find the perfect vantage point! Let the fight begin! Trucks enter the narrow streets dropping off thousands of big fat and juicy tomatoes, ideal for throwing at each other. The Tomato fight lasts for an hour; leaving the town red and juicy. Cleaning trucks roll into town to clean everyone and everything down. Use the facilities provided by the trucks or head down to the river and use the shower/water taps provided there. Locals also get on-board pulling out their hoses cleaning festival goers as they pass by. Once you are cleaned off, head on back to the coach and get changed into your fresh, clean clothes. We board the coach back to our hotel in Valencia for a well-earned siesta!
DAY 4
Valencia- Departure
After breakfast the day is yours to explore Valencia till your departure. Come back with amazing and memorable experience of the La Tomatina Festival.